We're very proud of the fact that we still have our very first client from 1997! In addition, we've continued to serve a number of clients as we've grown and that still call on us regularly. Not all have asked for web development, but almost all have benefited from our skills in areas they had needs.
Here's a small sampling of clients we provide a range of services to.
---
Orangeville Blues & Jazz Festival
Orangeville, Ontario
Annual Blues & Jazz Festival, held during the first weekend of June attracting tens of thousands of people.
Trondak Inc.
Monroe, WA USA
Manufacturer of Aquaseal and U-40 Products
---
The Journal Of Rheumatology
Toronto, ON
Peer Reviewed Medical Journal
---
Britannia Printers Inc.
Pickering, ON
Commercial Printers
---
R.B. Meiser Fly Rods
Medford, OR USA
Maker of specialty Spey & Two-Handed Fly Fishing Rods
---
IC Controls
Orangeville, ON
Process Water Analysis Equipment.
---
Small Town Family Dental – Dr. M. Gewarges
Shelburne, ON
---
Miedema's Auto Sales
Orangeville, ON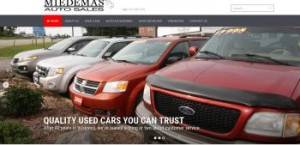 ---
Mary's Java
Toronto, ON

---
Mobility For Change – Life Coaching
Orangeville, ON

---